Welcome to Amanda's Page
Thank you for taking the time to visit my page. The AIDS Service Foundation is an amazing organization and I love their mission. The money we raise through the AIDS Walk will go to help people here in Kansas City. This is incredible because I love my city so much. I want those infected with HIV/AIDS to get the help they need especially when it comes to funding medicines that cost a ridiculous amount of money every month. Without money for medications, housing, medical care, etc., our community is at risk.

Would you please be willing to donate as little as $10 to my team? I would love for us to make a difference in our community. Thank you so much!
Personal Overview

So far I've raised
2871%
of my goal
Recent Donations
TS

Team's For Health Sun Life
$1,800.00
TS

Team's For Health Sun Life
$2,400.00
TS

Team's for Health Sun Life
$3,200.00
Team Overview

Team GLOBE Trotters has raised 136% of its goal
Team Fundraising Goal:
$8,000.00

Team's Top Fundraisers
Amanda Pate
$10,050.00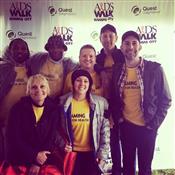 Russell Taylor
$125.00
Event Overview

AIDS Walk Kansas City 2018 has raised
92%
of their goal
AIDS Walk Kansas City 2018 Goal:
$500,000.00